Boston Wedding Ceremony
Limo Services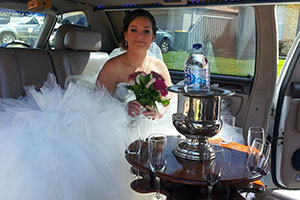 Let us make your wedding day one-of-a-kind - you know you deserve it.
Your perfect wedding plans need the perfect wedding day transportation. Whether you want a classic stretch limo or a vintage car with superior style, we can help you make the best decision to create the memories you deserve. We have bridal party limousine options like our party buses and stretch Hummer. However, if you are looking to make an exquisite entrance, our Rolls Royce Silver Shadow is about as exquisite a ride as you can get.
Luxurious wedding day transportation is our speciality. With our spotless cars and chivalrous chauffeurs, you will feel like a princess being escorted to the most elegant day of her life. With all of the planning that goes into the details of a wedding, our wedding ceremony transportation Boston brings another level of finery to any wedding. Adding our limo service to your wedding plans adds even more beauty to your day and gets the celebration started even before you read the location of your ceremony.
Request a Free
Quote, Now!
You Can't Go Wrong With Boston Limo Wedding
1
A great range of customizable vehicles
Stretch limos
, impressive
Hummers
, unique
Party Buses
, all equipped with everything you could possibly need during your special day.With our wedding transportation Boston, we can bring you to your ceremony, to the reception, and anywhere else your heart desires. Our limos are available for rental for as many hours as you need and our chauffeurs are ready to meet your needs. We provide more than just a ride to and from the ceremony and other events, we provide an experience that only extends the dream wedding that you have been planning for as long as you can remember.
2
Experienced staff
Polite chauffeurs, top-notch customer service and the best wedding planners in the industry. We are here to help you with you plan the perfect wedding - from A to Z. With our elegant cars and our hospitable chauffeurs, we can provide all the transportation you need on your special day. Some brides and grooms prefer to share a simple limo ride from the ceremony to the reception. Some newlyweds prefer to spend their driving time with their entire wedding party. And, some prefer to have both a private car for themselves and a limo bus for their wedding party. We can help you decide what will fit your budget and your goals so you can get the full experience that you have dreamt about.
3
Full service
Wild
bachelor
and
bachelorette parties
, elegant and classy wedding ceremonies, flawless honey-moon transportation. We offer the whole package in the wedding limo rental industry .Our wedding day transportation includes a fleet of beautiful cars and buses. We have a stretch limo, stretch Hummer, and a vintage Rolls Royce. We also have a Mercedes Benz Sprinter and a fleet of party buses in various sizes. Our planning service helps you make stress-free decisions and our chauffeurs know how to treat a wedding party. In the world of wedding day transportation, the trends have been to go big - just like everything else in the world of weddings. Our vehicles have plenty of room available for beautiful, voluminous dresses, special hairstyles, and glorious bouquets. There is also plenty of room for grooms and groomsmen to keep their tuxedos free of wrinkles. Our stretch limo easily accommodates 8 to 10 people with plenty of space. It even includes a television and bar for all of the pre-party fun that wedding parties enjoy today.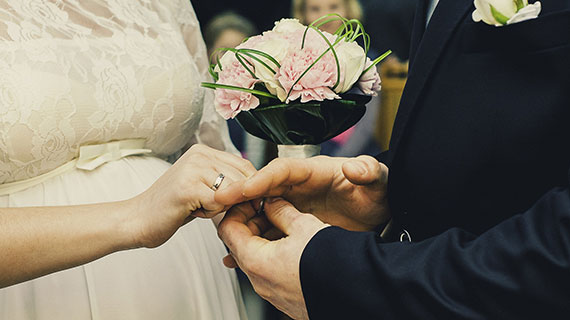 Another good option for any wedding is our stretch Hummer limo. This is a large vehicle that stands out in the crowds in Boston. In fact, this is the largest stretch Hummer limo in the Boston area - which is why it is so perfect for wedding transportation Boston. This vehicle is loaded with comfortable white leather seats for 14 to 16 people. The audio and video systems are second-to-none and the full wet bar is divine. This is one of our most popular choices for wedding day transportation, simply because it turns heads as it makes it way to ceremonies, receptions, and wedding-day photo shoots.
If you are looking for the most elegant of wedding day transportation, our 1979 Rolls Royce Silver Cloud is the car you need. From the moment the chauffeur picks you up, you will feel like the Queen of England. The photographs of brides stepping out of this car are timeless keepsakes that cannot be replicated with any other vehicle in our fleet. The Rolls Royce is like our very own wedding carriage straight out of the favorite princess movies. The smooth ride is only accentuated by the luxurious interior and gracious chauffeur who presents each newlywed couple with perfectly chilled champagne.
Our professional limo service is fully licensed and insured to provide the safest driving and vehicles. Our chauffeurs dress in impeccable tuxedos adding even more luxury to your wedding photos, as they hold the doors open for the brides and wedding parties. With the services we provide, you can relax and enjoy your flawless day. Our chauffeurs not only drive you to and from your event locations, but they can also roll out the red carpet for the ultimate treatment.
Our attention to detail makes you feel like the VIP that you are. We have several years of experience in the wedding transportation Boston industry. We know how to create memories that will be cherished for years to come. We have a track record of providing timely, prepared services. Our vehicles are spotless, inside and out. We also provide beverage services and audio and video services that are meant to please. Our chauffeurs are memorable for all of the right reasons, including their handsome tuxedos and polite demeanors.
Give us a call or complete our online quote for prompt service.